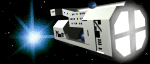 New Empire
---
Sol ist free!
You have to have an empire to play Sol.
Please don't forget to enter a login name and twice a password.
Please fill in at least the following fields:
Your name
Your email address
a login name for you
and twice a password
All other fields are free. We do not give your data away.
Only one Login per user please!
---
---